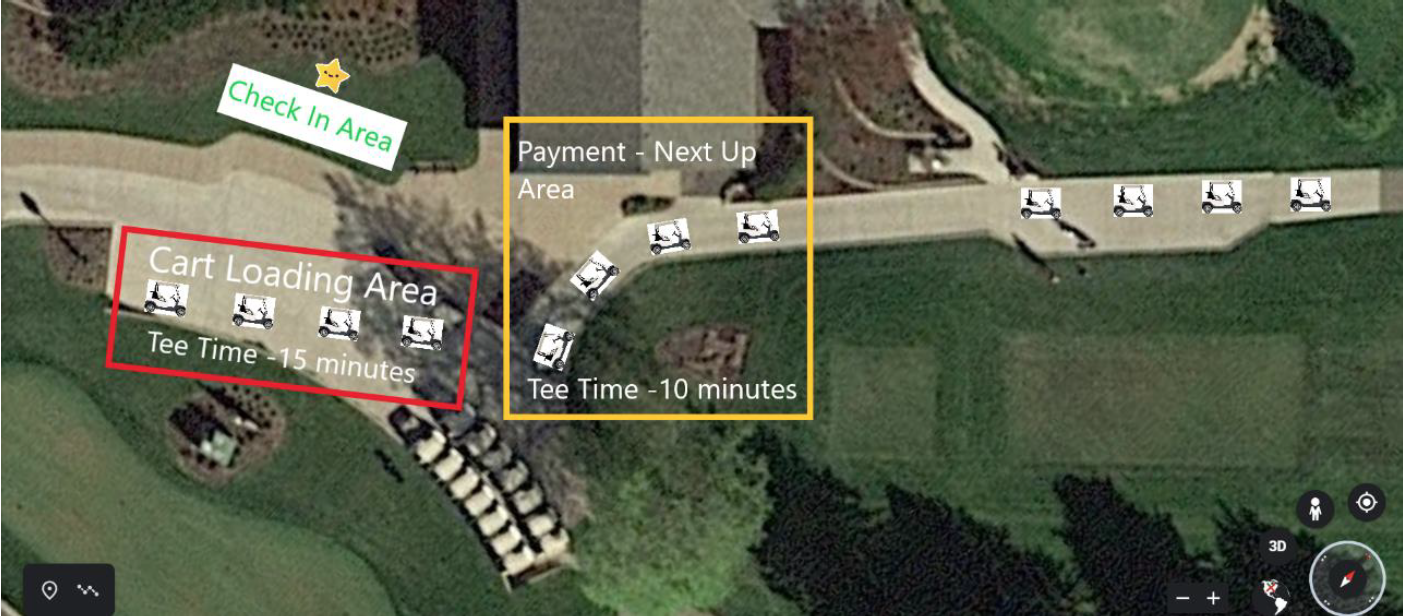 "Park and Play"
Social Distancing Guidelines
Island View is excited to announce the 2020 Golf Season is open for play:
Under Emergency Executive Order 20-38 (Allowing for Safe Outdoor Recreation) the State of Minnesota has allowed for golf courses to open, provided that specific rules and regulations are strictly adhered to by both the golf facility and its golfers. The entire golfing industry will be under a microscope to ensure compliance with State and Federal Regulations. We appreciate your support in following all rules and regulations outlined in this document. The "Park and Play" measures outlined below have been implemented at Island View in order to maximize your golfing experience while ensuring safe social distancing practices remain at the forefront of our operation. Park and Play is a national guideline based on recommendations from the Centers for Disease Control and Prevention (CDC). This document captures guidelines pertinent to our club. All members are expected to strictly adhere to these guidelines to ensure that a safe golfing environment can continue at Island View. We appreciate everyone's participation in these efforts.
Frequently Asked Questions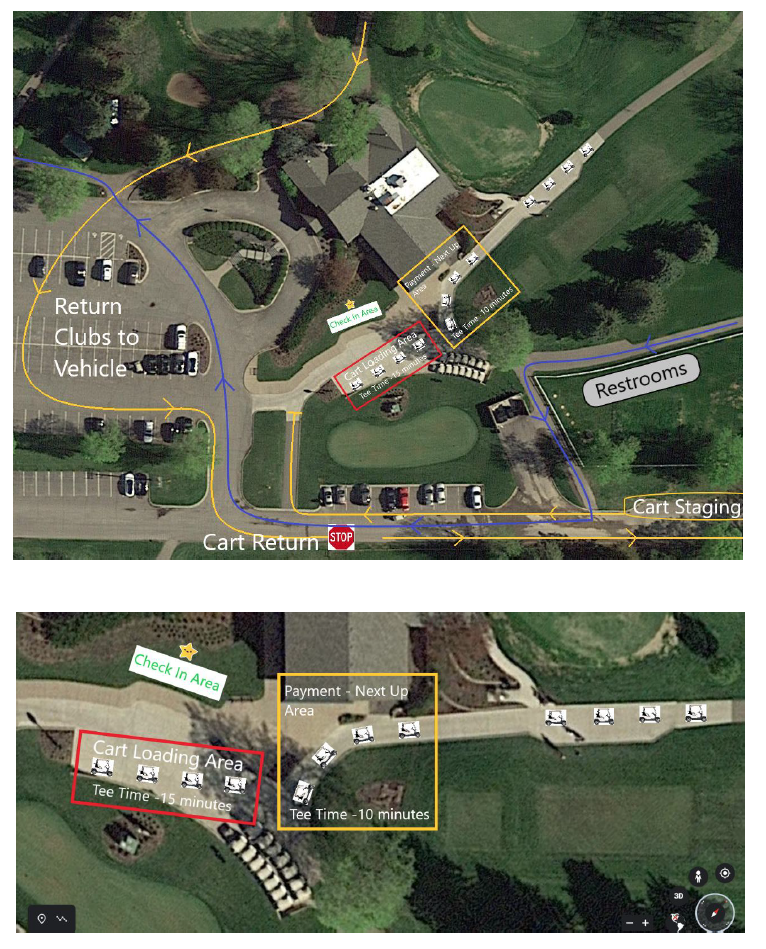 How should I reserve tee times?
Members should continue to reserve tee times using the ForeTees App. If you are a new member, your ForeTees login will be established and communicated to you prior to 8:00 AM on Monday, April 20th when the ForeTees App will become available to book tee times for Wednesday, April 22nd and beyond.
**Important – when booking on ForeTees, pay attention to properly select whether you intend to ride or walk. Cart availability will be covered later.
How should I pay for optional add-ons I have not subscribed to?
Carts: When making your reservation in ForeTees, indicate whether you are walking or riding. If you are not subscribed to the annual cart plan, you will have the opportunity to pay at check-in.
Range: In order to minimize high touch/ contact operations, we will not be issuing tokens or utilizing the ball machine in 2020. Balls will be made available in prewashed buckets, ready to be issued at the check-in area. If you are not subscribed to the annual range plan and wish to use the range prior to teeing off, you can pay for them at check-in.
How can I use my Member Guest Passes when bringing guests to the course?
When desiring to use a Member Guest Pass, record your guest on ForeTees by designated them as a "Member Guest". If your reservation is made by phone, be sure to mention those who are playing with you should be recorded as Member Guests. By doing so, we will automatically record the round on your guest pass for you.
How should my guests pay, if not using my Member Guest Passes?
It is preferred that your guest call ahead and pay over the phone. Otherwise, ensure they allow enough time to pay prior to their round.
How should I reserve tee times?
Island View is a semi-private club and non-members are invited to enjoy our course and may book up to 3 days in advance. The most efficient way to book and pay for your round is by visiting our website below and clicking the Yellow Button in our Upper Banner that states, "BOOK PUBLIC TEE TIMES". Booking availability for non-members will open up on Friday, April 24th for tee times on Monday, April 27th and beyond.
You may also call the clubhouse up to three days prior (1-952-442-6116 ex. 2) to reserve and pay by credit or debit card over the phone.
How should I pay for range tokens when arriving at the club?
In order to minimize high touch/ contact operations, we will not be issuing tokens or utilizing the ball machine in 2020. In order to accommodate this, you will be able pay at check-in.
Where should I check in when I arrive at the course?
All golfers, regardless of membership status or whether walking or riding, must report to the check-in area when you arrive, located in the vicinity of the pro shop. (indicated by the star on the map below). After you've checked in, enjoy the practice facilities but ensure you've returned to the cart loading area (see Red Square on map below) with all your belongings no later than 15 minutes prior to your tee time.
Am I allowed in the Pro Shop?
The Pro Shop is closed for access to all golfers. There will be a table situated outside near the entry to the Pro Shop that you will be able to pay. Balls, tees, and other items needed for your round may be purchased at that time. You will only be allowed to approach the Pro Shop to pay 10 minutes before your round when your group is in the "Next Up" waiting area (see Yellow Square on map below).
Is the clubhouse closed?
In accordance with Executive Order 20-04, the clubhouse is closed to all golfers. The restaurant will remain open for pick up orders only. If a member rents a locker in the locker room, clubs and other belongings will be brought outside on the first day the member is scheduled to golf. If you request your clubs before then, please make arrangements with the Club Administrator by e-mailing allenc@islandviewgolfclub.com. The clubhouse will remain closed until the State of MN lifts the restrictions surrounding Executive Order 20-04.
What if I need to use the restroom?
Portable outdoor restrooms will be staged for use prior to the first tee and at the turn. Golfers are encouraged to bring their own personal sanitary wipes to clean the door handles before and after each use. Although IVGC staff will frequently clean and wipe down high surface contact areas of the portable restrooms, golfers should use the portable restrooms at Island View at their own risk.
Will there be enough golf carts for everyone?
We have implemented a "One-rider-per-cart" policy. The only exception will be couples or family members who are golfing together. Because our available carts are limited, we ask that you strongly consider walking, if able. A limited number of pull carts have been cleaned up and are available for a small fee. Please inquire at the check-in area on cart availability.
What are the guidelines surrounding the practice facility?
Driving Range: Range balls will be cleaned and washed after each pick and available at the check-in area for use. Ensure you are properly positioned to allow ample space between you and your fellow golfers.
Chipping Area: There will not be golf balls available in the chipping area. Please use your own golf balls. Ensure you are able to maintain a safe social distance in this area.
Upper and Lower Putting Green: Please use your own golf balls in this area. Ensure you are able to maintain a safe social distance in this area.
Food and Beverage
Food and Beverages can be preordered by calling Vandy's Grille or vising their website prior to your round. It is recommended that golfers bring their own reusable and filled water bottle to the course. We will not have water stations on the course. As a reminder, other than water, bringing outside food and beverage is not permitted. Bringing outside alcohol to Island View is strictly prohibited.
Golfers are encouraged to call in regular menu items before teeing off on #8 and #17. We are placing menus at those locations. If ordering food for takeout following your round, please call in your order prior to teeing off on #17. Your food will be available for pickup and payment outside on the deck just west of the 18th green.
What changes can I expect to see on the Golf Course?
Please do not touch or remove the flag stick
The cup will either be upside down (preventing your golf ball to fully drop) or a mechanism will be installed to allow you to remove your ball using your putter head.
There are no bunker rakes on the course. If your ball lands inside a bunker, you will be permitted to pick up your ball, level the sand as best you can with your foot, and place your ball at its original resting point.
There are no ball washers or garbage receptacles on the course. Please keep your own garbage with you and be mindful not to litter. There will be a trash can after the 9th and 18th green. Please dispose of your trash there.
Bulk score card placement will been removed from the #1 and #2 tees. Although we encourage you to not use score cards and pencils, they will be available upon request at check in.
After finishing on the 18th green, please dispose of your trash, drive the cart to your vehicle and drop off your clubs and other belongings, before returning your cart to the cart drop off area denoted by the stop sign on the map below. Please leave your keys in the cart.
Upon returning your cart to the designated area, we kindly ask that you leave the golf course immediately after playing to eliminate congestion/ gathering on the property or in the parking lot.
Final thoughts
On behalf of the entire staff, we would like to take this opportunity to thank all of our members and guests for your patience, understanding, and flexibility as we head into 2020. Life, for everyone, has been challenging these past several weeks. We hope the hours you spend with friends and loved ones on the course offer a brief break to recharge your batteries and sink some birdies. Again – we thank you for your patronage and look forward to seeing you on the course!